The One That Started It All!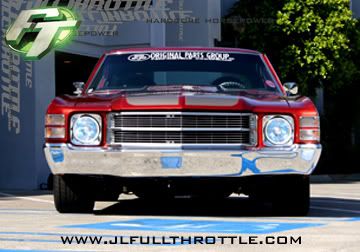 OK this is not the car that started the JL Full Throttle / Foose Die cast line. It wasn't even the first car we chose for the line. This hot rod 1971 Chevelle wasn't responsible for starting the career of one of the greatest automotive designers in Chip Foose either. This car was, the one that got the Overhaulin' party started and helped launch the career of Chip Foose into the stratosphere!

Chip Foose and Overhaulin' producer Bud Brutsman had the idea for the ultimate car makeover show. Chip and Crew would steal an unsuspecting but deserving guy's car and in a few days turn it into their dream machine.
Chip and Bud enlisted many of their automotive industry friends and colleagues to help one being, Jim Holloway from Mothers. Jim knew of just the right car to start with. Jeff Miller, owner of a beat down bowtie happened to work up the street at Original Parts Group and dreamed of fixing up his cherished Chevy.
They had their "Mark" and with Jim's help they took possession of Jeff's Chevelle under the guise of it being in an infomercial. Jeff was told he'd get his car back unharmed in a week.
That's when Chip and the Overhaulin team took over transforming the worn out muscle car into a ride that would turn heads. Chip had the car lowered down and sat it on some billet Budnicks. This is one of only a few rides on Overhaulin' not to sport Foose Wheels!
Chip and crew pulled the engine and dropped in a fresh 350 from the guys at Edlebrock. Mitch Lanzini from Lanzini Bodyworks, in Huntington Beach, California, sprayed the fresh candy apple red paint and coated the champagne flames laid out by Foose.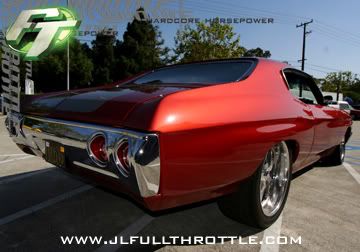 Inside Cobra Racing seats and fresh panels from Original parts group finish off this fresh ride. The Overhaulin' guys though it would be funny to pull a prank on Jeff so they sent one of the crew over with some of the parts from his own Chevelle that needed to be replaced. Jeff had no idea what he was looking at as he filled the customer's order and actually finished off his own Chevelle!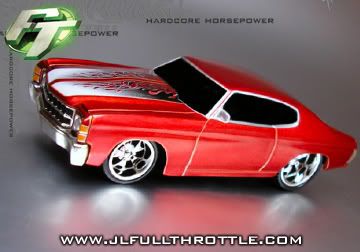 JL Full Throttle replicated the Overhaulin' Chevelle in both LRG and SM scales. The SM scale features a brilliant Candy Apple Red paint with miniature Foose flamed stripes over the opening hood. Mini Budnicks are located at the corners of both the LRG and SM models. The LRG model has a finely detailed engine and an opening trunk complete with a custom stereo system. Opening the doors you can see the bucket seats and more. The shots of the SM Scale die cast again come from Noah out of Ohio who continues to find the mini Foose rides very photogenic.
The '71 appeared on the cover of Hot Rod Magazine in April 2005 with former Overhaulin' host Courtney Hansen. Jeff drives his Chevelle to work from time to time which is where the JLFT Team caught up with him and snapped these shots back in 2005. JL Full Throttle's Eric Tscherne wanted to make sure that such a monumental car was captured and replicated in the Foose line. "Overhaulin' didn't make Foose" noted Tscherne. "Foose made Overhaulin' and with that they made dreams come true and inspired countless others.-JLFT Team